Healthi
Restaurant Guide to
Cheesecake Factory

OVERVIEW
The Cheesecake Factory has a wonderful atmosphere full of delicious dishes. With fresh and scratch made items, you'll be eating Healthi here with so many choices!

THIS PLACE IS KNOWN FOR


3 QUICK TIPS FOR EATING HEALTHI AT CHEESECAKE FACTORY
Choose the SkinnyLicious Menu
Ask for dressings on the side
Choose leaner proteins and fresh veggie sides
FRIENDLY MENU ITEM'S AT CHEESECAKE FACTORY
Here at the Cheesecake Factory, you'll want to mainly focus on the SkinnyLicious menu. It has the best calories and macros compared to the majority of other menu items.
APPETIZERS
The appetizers on the SkinnyLicious Menu are not only delicious, but also filling! Some of these can actually be eaten as a meal itself.
The SkinnyLicious Little House Salad is a simple yet tasty side salad with tomato and cucumber, tossed in their homemade vinaigrette.
The Chicken Taquitos are crispy corn tortillas with grilled chicken, green chili, corn, onion, cilantro and cheese. YUM! And only 390 calories.
Their Beet and Avocado Salad has wonderful glazed beets, avocado, fresh orange, arugula and honey glazed yogurt sauce. So tasty!
If you love flavor, the Asian Chicken Lettuce Wrap Tacos are sure to deliver. Butter lettuce leaves with grilled chicken, carrots, bean sprouts, cucumber, cilantro and rice noodles with spicy peanut sauce is very tasty.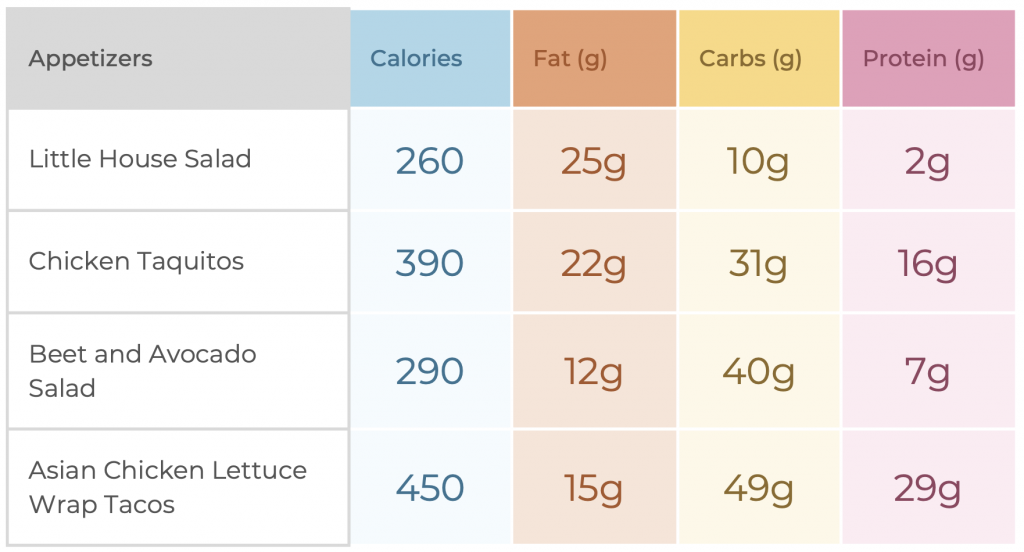 These SkinnyLicious Salads are a sure way to get all the flavors you love, without all the calories.
The Tossed Green Salad is a simple yet tasty one. With mixed greens, assorted veggies, tomato and croutons, you'll definitely maximize on veggies.
The SkinnyLicious Factory Chopped Salad is a blend of romaine, grilled chicken, tomato, avocado, corn, bacon, blue cheese and apples. Try it with the SkinnyLicious Vinaigrette!
The Mexican Tortilla Salad is the perfect blend of Tex-Mex flavor. It comes with crispy corn, topped with grilled chicken, black beans, mixed greens, fresh corn, green onion and cilantro. Delicious!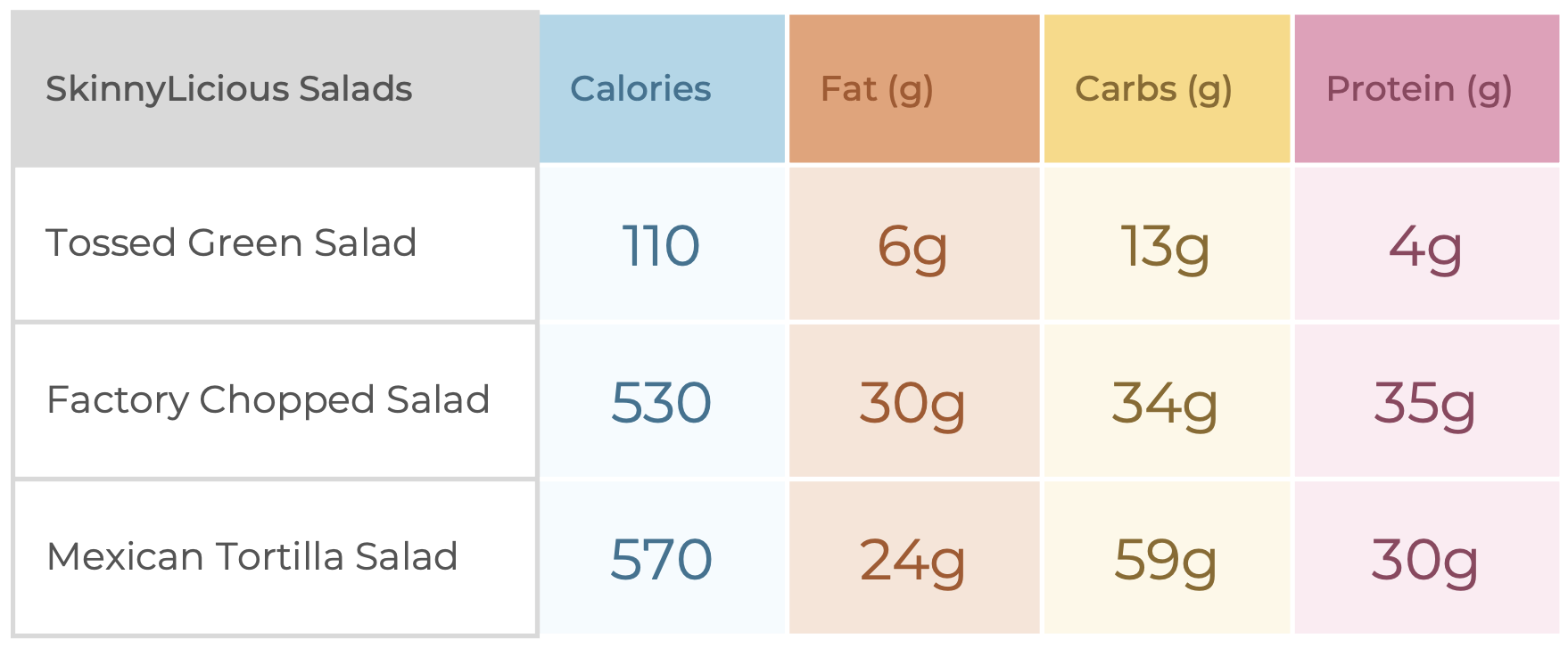 SKINNYLICIOUS SPECIALITIES
The items in this part of the menu all come in at 590 calories or less! What?! You'll be sure to find your favorite Healthi dish here.
Think burgers are off limits? No way. The SkinnyLicious Hamburger comes with lettuce, tomato, onion, pickles and mayo on a toasted bun. It's served with a green salad.
Their SkinnyLicious Grilled Turkey Burger is another great option. It's combined with fresh mushrooms, garlic and spices served with grilled onions, lettuce, tomato, mayo and a green salad.
The SkinnyLicious Turkey & Avocado Sandwich is another great try.
Feeling more of those Tex-Mex vibes? The SkinnyLicious Chicken Soft Tacos are a great choice. It comes with three corn tortillas with spicy chicken avocado, tomato, onions, cilantro and crema. It is served with Escabeche Vegetable Salad.
If you love salmon, the SkinnyLicious Grilled Salmon is a delicious choice served with assorted fresh vegetables.
Lastly, the Grilled Steak Medallions are served with fresh asparagus, shiitake mushrooms, sautéed cherry tomatoes, crusted croutons, mashed potatoes and Madeira Wine Sauce. Talk about all the veggies!