Healthi
Restaurant Guide to
KFC
Download PDF Version

OVERVIEW
We know that KFC is the home of fried chicken, and we also know what you may be thinking. "How can I have KFC when I'm on a weight loss journey?" Though they do specialize in tasty fried chicken with 11 herbs and spices, they also have tender, juicy Grilled Chicken! Don't worry, we're here to help you build a customized meal that will keep you on track on your Healthi journey.

THIS PLACE IS KNOWN FOR


3 QUICK TIPS FOR EATING HEALTHI AT KFC
To keep it light, stick with the Kentucky Grilled Chicken Menu
Pick 2 lighter vegetable sides
Avoid heavier options like biscuits and pot pies/famous bowls
FRIENDLY MENU ITEM'S AT KFC
KFC definitely specializes in fried chicken. And maybe you're looking to splurge a little for dinner. One piece of Original Recipe fried chicken breast is around 390 calories and 21g of fat. If you add in a side of green beans and corn on the cob, your meal would be about 490 calories and 22g grams of fat. Not too bad, right?
If you're looking to stay on the lighter side, here are some meals for you. You'll want to avoid the heavier sides, Famous Bowls, and fried chicken.
You could start with 2 pieces of the Kentucky Grilled Chicken breast, then add a side of mashed potatoes (no gravy) and a side of green beans. If you like dark meat, try the Kentucky Grilled Chicken Drumstick (2 pc) with coleslaw and sweet kernel corn. Or, you could opt for a 2 pc Kentucky Grilled Chicken Thigh meal with mashed potatoes and sweet kernel corn. Yum!
You could also customize your own meal with any selection of the Kentucky Grilled Chicken and lighter side options.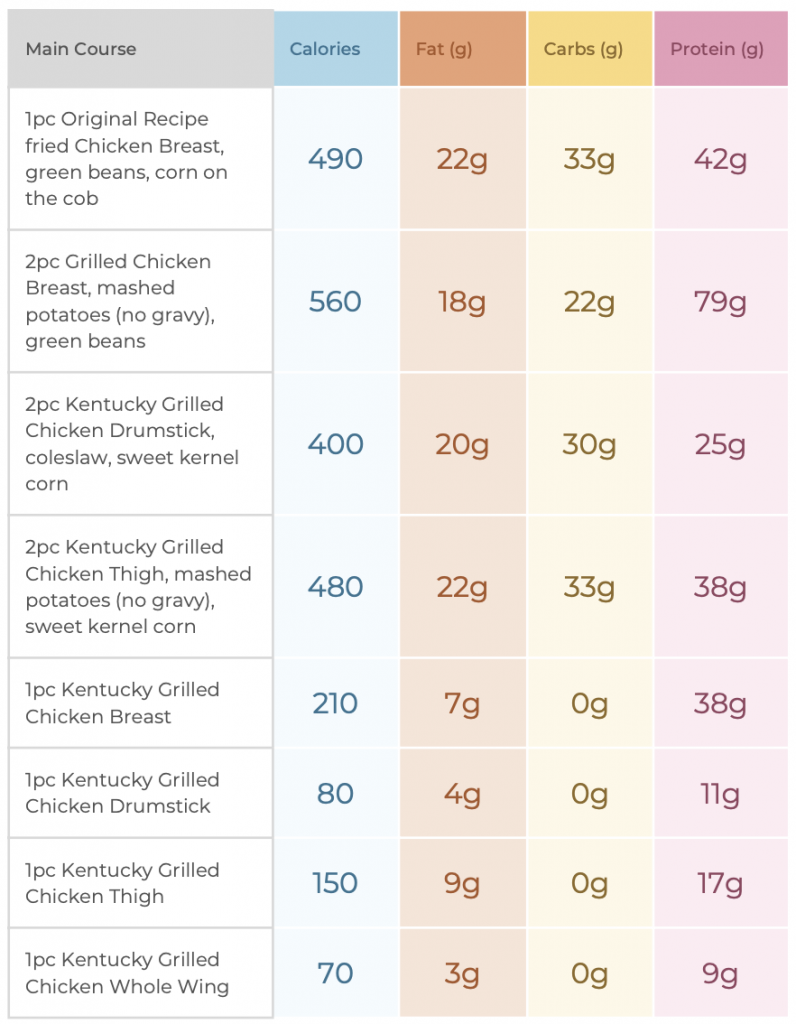 SIDES
There are plenty of great side choices here! Most combos come with choice of 2 sides. A personal lighter favorite combination is green beans with corn on the cob.