Healthi
Restaurant Guide to
McDonald's
Download PDF Version

OVERVIEW
Let's face it, those Golden Arches are a Fast Food legend. Though many may think McDonald's would be out of the question on a weight loss journey, the truth is- it's not! There are healthier options you can enjoy while on the go, through the drive through, a trip with the family, or just because.

THIS PLACE IS KNOWN FOR

3 QUICK TIPS FOR EATING HEALTHI AT MCDONALD'S
To cut down on fat and calories, omit the cheese.
Try a Happy Meal! The portion sizes are much better.
If you're going for breakfast, ask to leave off the butter on the English Muffin.
FRIENDLY MENU ITEM'S AT MCDONALD'S
McDonald's has a pretty good selection of breakfast items. Though it's best to stay away from the biscuits, gravy and pancakes- you still have great options!
The McMuffin sandwiches are a great choice. With different meat choices, you'll get lots of protein.
The original Egg McMuffin comes with a fresh cracked egg, Canadian bacon, and cheese.
The Sausage Burrito is another delicious option with scrambled egg, sausage and a vegetable mix.
Helpful tip- You can ask them for no butter on the English Muffin to save some calories, and no cheese to save even more.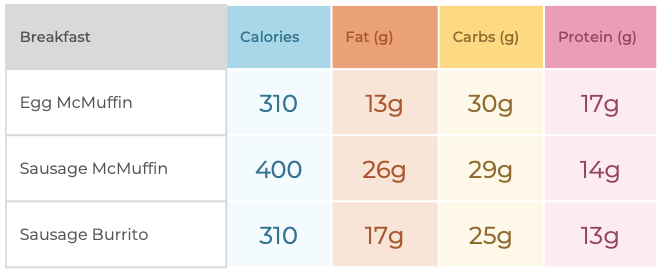 MAIN COURSE
We know McDonald's is famous for their burgers. Try to stick with the single patties and avoid doubles. The classic hamburger is a better choice. You could request no ketchup to cut some sugar and calories, and stick with the mustard, pickle and onions that come on it.
And just because we're all adults doesn't mean we can't have Happy Meals! In fact, they're a great option because of the portion sizes AND they come with fresh apple slices!
Since McDonald's currently doesn't have a grilled chicken option (Bring back the Snack Wraps, am I right?!) it's best to avoid the fried chicken sandwiches. The McNuggets are a better alternative.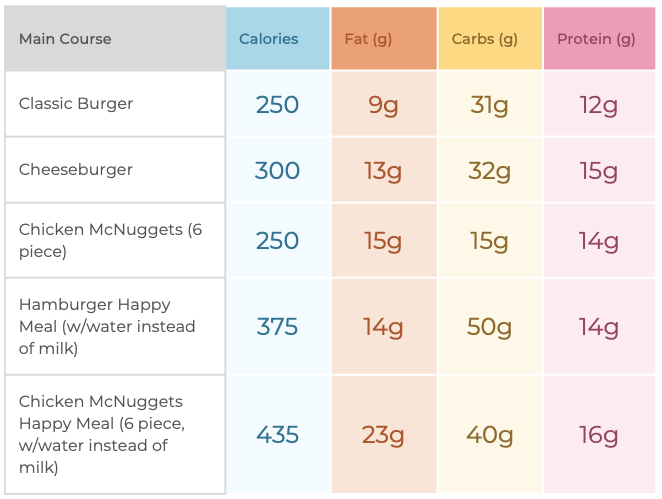 SIDES
The sides here are limited. French fries and apple slices 🙂