Healthi
Restaurant Guide to
P.F. Chang's

OVERVIEW
P.F. Chang's is the perfect place if you're looking for made from scratch Asian Food. With quality ingredients and the tradition of wok cooking, you'll have the best experience.

THIS PLACE IS KNOWN FOR


3 QUICK TIPS FOR EATING HEALTHI AT P.F. CHANG'S
Choose steamed instead of fried
Go vegetarian for lighter dishes and less calories
Ask for extra broccoli as a side instead of heavier items like noodles
FRIENDLY MENU ITEM'S AT P.F. CHANG'S
We know that Asian food can come at a cost (in BITES that is.) But if you're looking for a splurge, P.F. Chang's is a great place for that! It'll be best to stay away from most of the large entrees, and instead make your own meal by picking smaller, lighter options.
Starting with the Dim Sum menu, the Vegetable Spring Rolls (2 pieces) are a delicious treat filled with all the veggies.
The Steamed Handmade Pork Dumplings are another delicious option and come with 6 pieces.
The Steamed Handmade Shrimp Dumplings are also going to be a nice, fresh choice.
Next, let's move on to Sushi. The California Roll is always a fan favorite and comes in at 390 calories. The Spicy Tuna Roll is another lighter option, and another favorite!
Moving on to salads and soups- the Asian Caesar Salad is a great choice with romaine, Parmesan, toasted sesame seeds and wonton croutons. Yum!
If you're a fan of soups, you're in the right place! There are multiple good choices here. First is the Wonton Soup, which you can choose from a bowl or cup. The Egg Drop Soup and Hot & Sour Soup are delicious options. Try Pairing a cup of soup with a delicious California Roll or Spicy Tuna Roll!
When it comes to entrees, you'll want to be fairly selective. Pay attention to whether something is steamed or fried, and always go steamed if you can to keep it lighter. The Steamed Spicy Chicken is a great option here, as well as the Steamed Pepper Steak.
If you're wanting to fill up on veggies, Buddha's Feast is a delicious blend of five-spice tofu, savory sauce, green beans, mushrooms, broccoli and carrots. You can order this one stir-fried or steamed.
When it comes to vegetarian meals, the Stir-Fried Eggplant is a delicious dish. With Chinese eggplant, sweet chili soy glaze, green onion and garlic, you'll get all the flavor for less calories!
If you're a seafood lover, the Shrimp with Lobster Sauce (steamed) is a great option and comes with chopped black beans, mushrooms, egg and green onion.
Last on the list is the Ginger Chicken with Broccoli. A classic, delicious Asian dish!
*These dishes do not include rice or sides unless stated.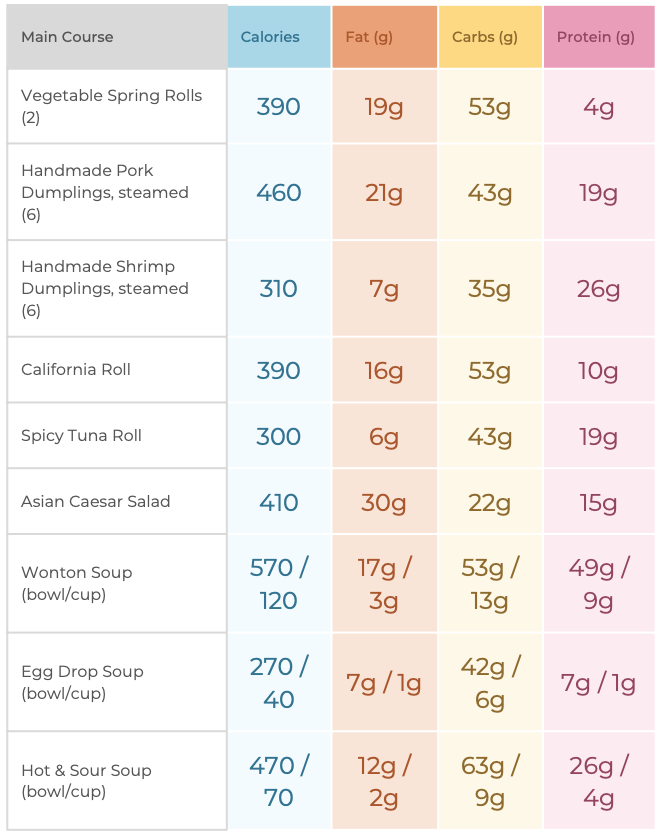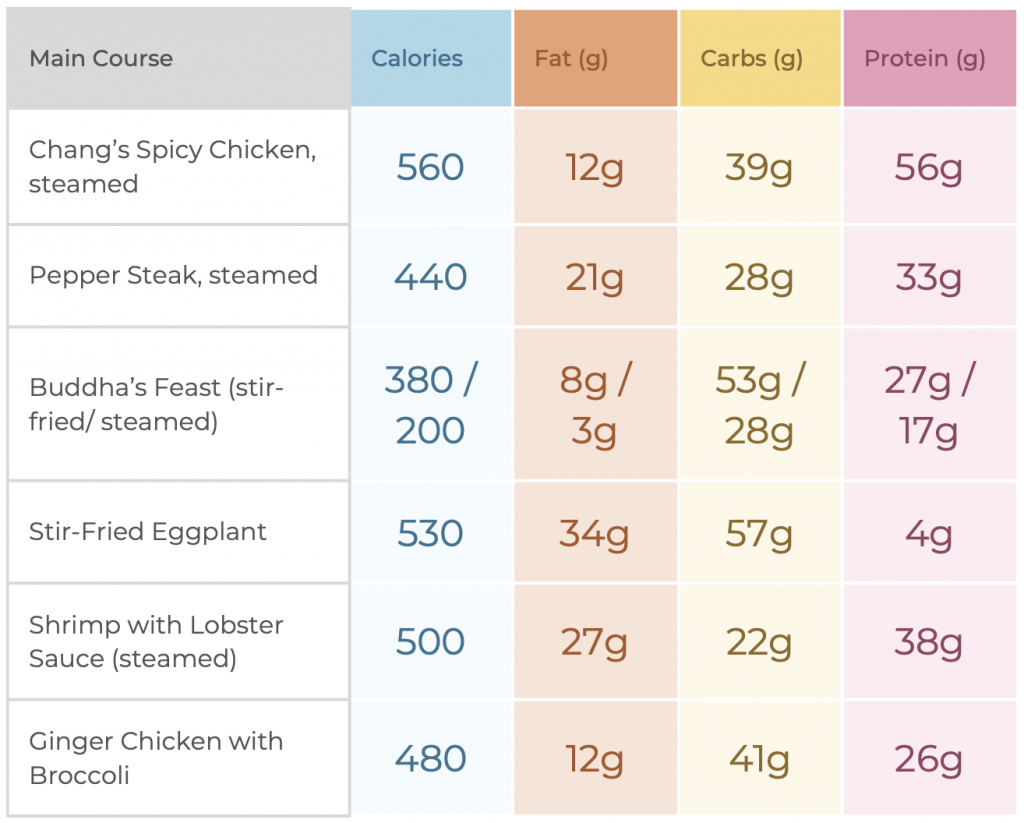 SIDES
These sides are perfect pairings to any entrees!