Healthi
Restaurant Guide to
Panera Bread
Download PDF Version

OVERVIEW
It's no secret that Panera Bread is a fan favorite. With "good food, and food you can feel good about", there's no question you'll feel Healthi and happy eating here. With a variety of amazing soups, salads and sandwiches, you'll always find something you'll love.

THIS PLACE IS KNOWN FOR


3 QUICK TIPS FOR EATING HEALTHI AT PANERA BREAD
For the Endless Garden Bar, pick fresh greens and veggies while avoiding heavier toppings like fatty meats and cheeses
Choose lean meat like fish, grilled chicken or steak
Stick with lighter veggies sides
FRIENDLY MENU ITEM'S AT PANERA BREAD
We know Panera is a welcomed choice when it comes to dining out. They have wonderful salad, soup and sandwich options. You'll want to avoid most of the whole size sandwiches as well as the bread bowls, since those add up quickly in calories and fat.
The You Pick Two is a great choice because you get two smaller sized portions of items you love.
If you love a great soup and sandwich combo, try out the You Pick Two combo of half Bacon Turkey Bravo sandwich (no sauce) with a cup of Chicken Noodle soup and an apple on the side. Yum!
Another great Pick Two combo is the cup of Bistro French Onion Soup with a half Deli Turkey Sandwich and apple on the side.
If you're in the mood for a soup and salad combo, try out the Pick Two Broccoli Cheddar Soup and Half Green Goddess Cobb Salad with Chicken. You can add a baguette for 180 calories, or an apple for only 80. Delicious!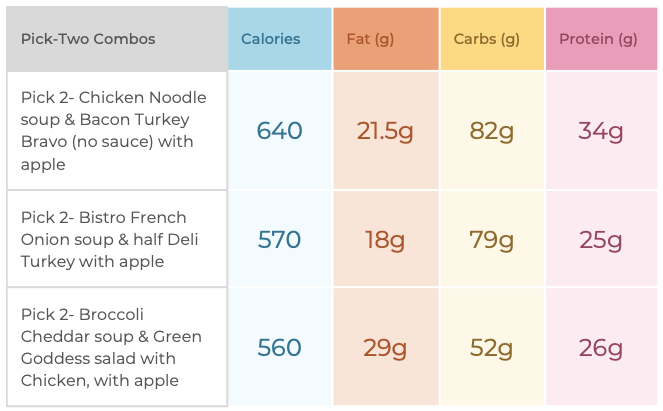 There are so many combinations to choose from when it comes to the Pick Two menu. The soups in a Pick Two combo are a cup instead of bowl, the sandwiches are half, as well as the salads. Feel free to mix and match as you like to make them fit into your day!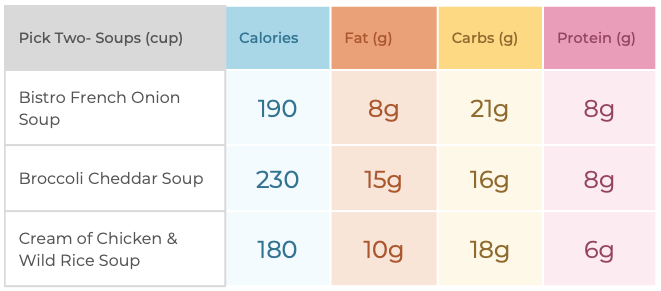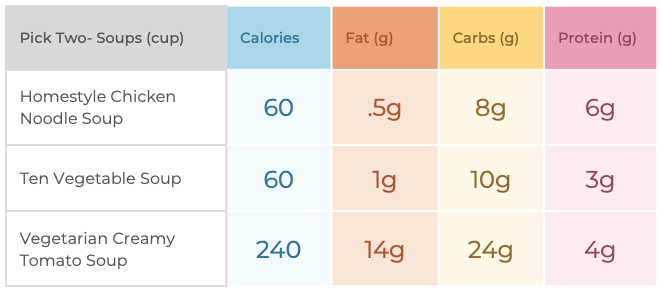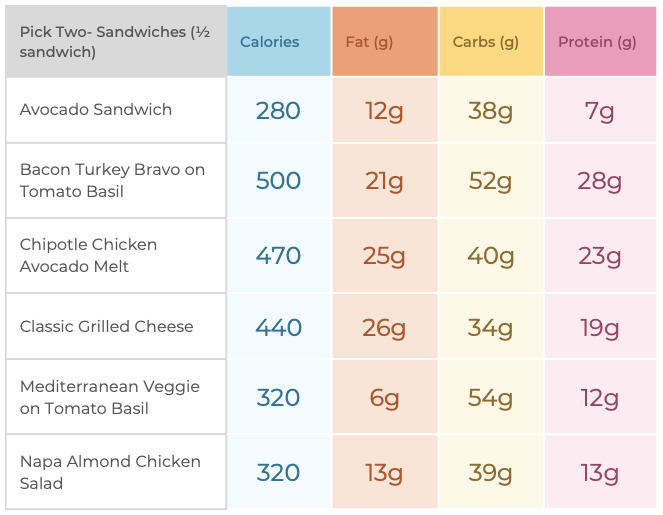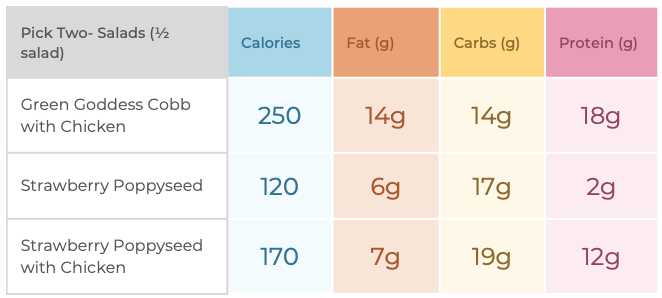 SIDES
Panera has great side options to add on to any meal. Fresh fruit, including a seasonal Summer fruit cup, pickle or a cucumber salad are all great additions.