Healthi
Restaurant Guide to
Texas Roadhouse

OVERVIEW
Texas Roadhouse may be the ultimate Steak House for all your Healthi dreams. It's a great place to maximize on protein with steak, seafood, pork chops and more. You'll love the choices here while still staying on track.

THIS PLACE IS KNOWN FOR


3 QUICK TIPS FOR EATING HEALTHI AT TEXAS ROADHOUSE
Choose lean meats like steak, salmon or grilled chicken/pork chop
Bring your own salad dressing and potato toppings
Skip the bread for less calories and carbs
FRIENDLY MENU ITEM'S AT TEXAS ROADHOUSE
Appetizers here are pretty heavy, so it'll be best to avoid those and head straight to the main course.
Of course, Texas Roadhouse is famous for their steak. But that's not all! The pork chops, grilled chicken, salmon and shrimp are also great options. You'll want to avoid heavier dishes like large burgers and fried chicken.
There are quite a few steak choices here. The sirloin is one of the more popular options. You can choose from a 6oz or 8oz and it pairs wonderfully with a plain baked potato and veggie. Since low fat salad dressing isn't available in all locations, you can bring your own so you're sure to have a lighter choice. The Dallas Filet is another delicious choice and pairs great with any of the veggie side options.
The grilled BBQ Chicken and Herb Crusted Chicken are both delicious lighter options here. Try pairing them with a house or Caesar salad and broccoli or green beans.
Seafood is always a delicious, lighter but filling option. The grilled salmon or shrimp pairs great with the rice and fresh vegetables.
Salads can be filling and delicious, but you'll have to watch out for some of the toppings. The Caesar is a good choice along with the Grilled Chicken salad, but ask for no cheese and bring your own dressing to keep it light.
The Pork Chop is a great source of protein and has lots of flavor. Try pairing it with applesauce and broccoli, or rice and veggies.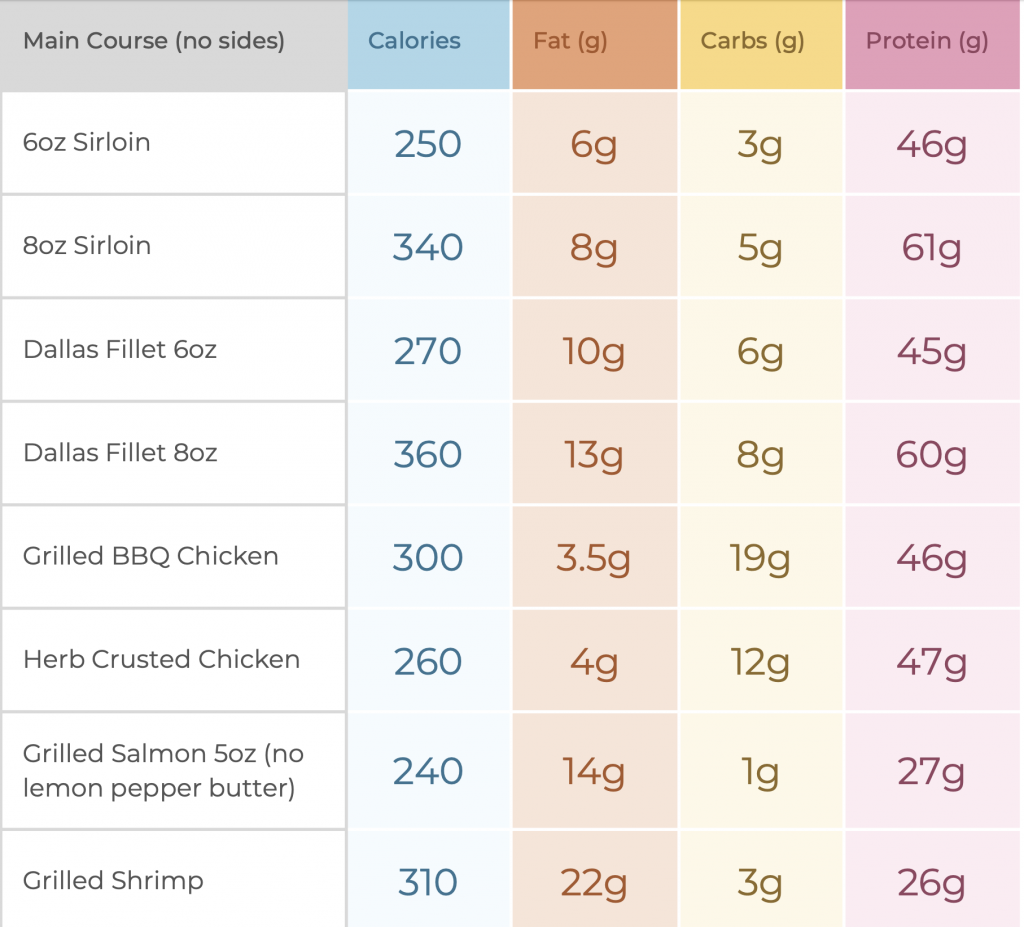 SIDES
Texas Roadhouse has quite the variety of side choices. Be aware most veggies are cooked in butter/oil and you can bring your own sour cream (or Greek yogurt) for your potato to keep it lighter.