Healthi
Restaurant Guide to
Wendy's

OVERVIEW
We know Wendy's doesn't cut any corners, especially with their fresh beef. With a family friendly atmosphere, fair prices and some Healthi choices, you'll get quality food at a great price.

THIS PLACE IS KNOWN FOR

3 QUICK TIPS FOR EATING HEALTHI AT WENDY'S
Choose Jr. size burgers
Opt for no mayo to save calories and fat
Salads are a great lighter but filling choice
FRIENDLY MENU ITEM'S AT WENDY'S
Here at the Cheesecake Factory, you'll want to mainly focus on the SkinnyLicious menu. It has the best calories and macros compared to the majority of other menu items.
SANDWICHES & NUGGETS
Wendy's is most famously known for their fresh, juicy, square shaped burgers. Though it'll be best to avoid the largely overloaded burgers, the smaller sized ones can fit into your day. Skip the larger sized buns and doubles, triples, etc along with the bacon.
Try the Jr. Cheeseburger Deluxe with no mayo to save some fat and calories. If you like a more simple burger without all the fixings go for the regular Jr. Cheeseburger. To save even more, you can skip the cheese and get the Jr. Hamburger.
Wendy's doesn't just do burgers- they have grilled chicken, too! The Grilled Chicken Sandwich has juicy grilled chicken with lettuce, tomato and smoky honey mustard. Yum! It comes with great protein, too!
You could also choose a 4 or 6 piece nugget for lower calories than most sandwiches. Best to skip the sauce (or bring your own light sauce!)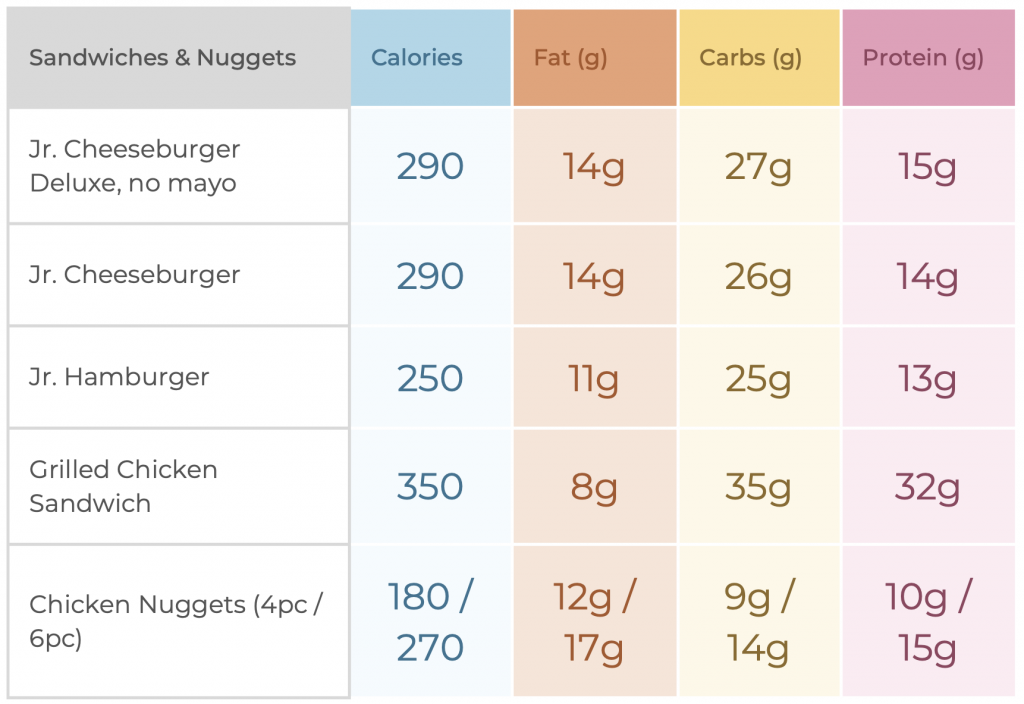 No need for a boring salad because Wendy's salads are far from it! The Wendy's Parmesan Caesar Salad is packed with flavor. It comes with grilled chicken and Parmesan crisps.
The Southwest Avocado Salad has the perfect southwestern flavor, without all the guilt. This salad comes with grilled chicken, bacon and avocado.
The Apple Pecan Salad is the perfect blend of sweet and savory with grilled chicken, roasted pecans, apples and blue cheese crumbles.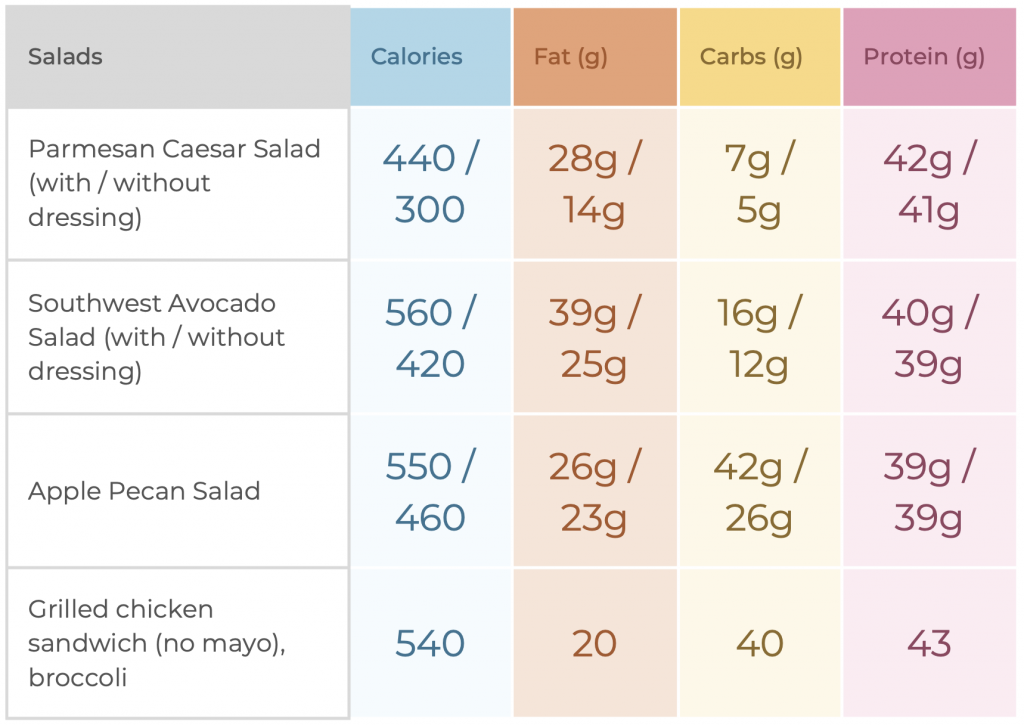 FRIES & SIDES
There are a few side options here, but all will add calories to your meal. You could even choose 1 or 2 of these options as your meal, like a bowl of chili and plain baked potato. You could bring your own low fat sour cream or Nonfat Greek Yogurt for your potato to save some BITES!