We're kicking off our Fast Food Guide with one of the most popular fast food spots in the world: Subway.
First, you can order a flatbread without the flatbread. They'll serve it to you in a bowl, isn't that wonderful?
Here are the nutritional facts for each of the individual breakfast proteins:
All of the sandwiches at Subway can be made into salads, isn't that exciting? Here are the sandwich facts- 6-inch (double for footlong):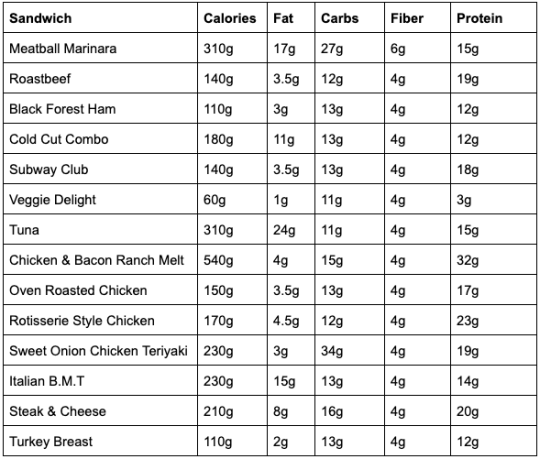 Next, we'll dive into dressings. It's best to avoid dressings if you can. Instead, try putting some salt and pepper on your salad. It might seem strange, but after you've put your meat and other veggies in, you might be surprised to find you don't need the dressing at all. But, in the event you do, here are the facts:
Dressings (amount on 6-inch sub):
Vegetable Facts (amount on 6-inch sub):
Cheese Facts (amount on 6-inch subs):
Meat Facts (amount on 6-inch sub):
If you're feeling extra hungry, try adding extra meat to your salad. Check out the nutritional facts for a regular Steak & Cheese vs. one with double the meat:
Want more information? Here is the exhaustive list of Subway Nutritional Facts.
Ready to start losing weight today? Head to http://bit.ly/Healthi and download the best tracking app for your weight loss journey!