Healthi
Restaurant Guide to
Buffalo Wild Wings
Download PDF Version

OVERVIEW
If you're a big fan of wings and sports, Buffalo Wild Wings is the place for you! With the sporty and casual dining atmosphere and a variety of a food options, you'll definitely find something Healthi while kicking it with friends or family AND stay on track!

THIS PLACE IS KNOWN FOR

3 QUICK TIPS FOR EATING HEALTHI AT BUFFALO WILD WINGS

Order the 6 count boneless or traditional wings, or try the naked tenders
You can ask for sauce on the side so you can control how much you use
Try the carrots and celery as a side to get those veggies in!
FRIENDLY MENU ITEM'S AT BUFFALO WILD WINGS
APPETIZERS
The appetizer section here isn't going to be light, or BITES friendly, so it may be best to skip on those. Don't worry, there's plenty of other options on the menu!
MAIN COURSE
No question here, BWW is definitely known for their wings. With the option of traditional or boneless and endless sauces to choose from, there's something for everyone. An order of 6 piece traditional wings will cost about 430 calories and a 10 piece around 720 calories. The 6 piece boneless wings are about 360 calories and the 10 piece boneless wings are about 610 calories. The sauces will vary if you add those in. And for those that didn't know- they offer naked tenders! A 3 piece is 580 calories and 5 piece is 680 calories.
Did you know they also offer cauliflower wings?!
You'll want to stay away from the heavier options like burgers and fried sandwiches.
Let's start with a 6 count boneless wings. Then, you want to add Nashville Hot sauce to the wings and have celery and carrots for your side. Altogether your wings, sauce and side would be about 455 calories.
Maybe you like traditional wings and want to add the spicy garlic sauce to them with celery sticks. Your meal would be about 490 calories.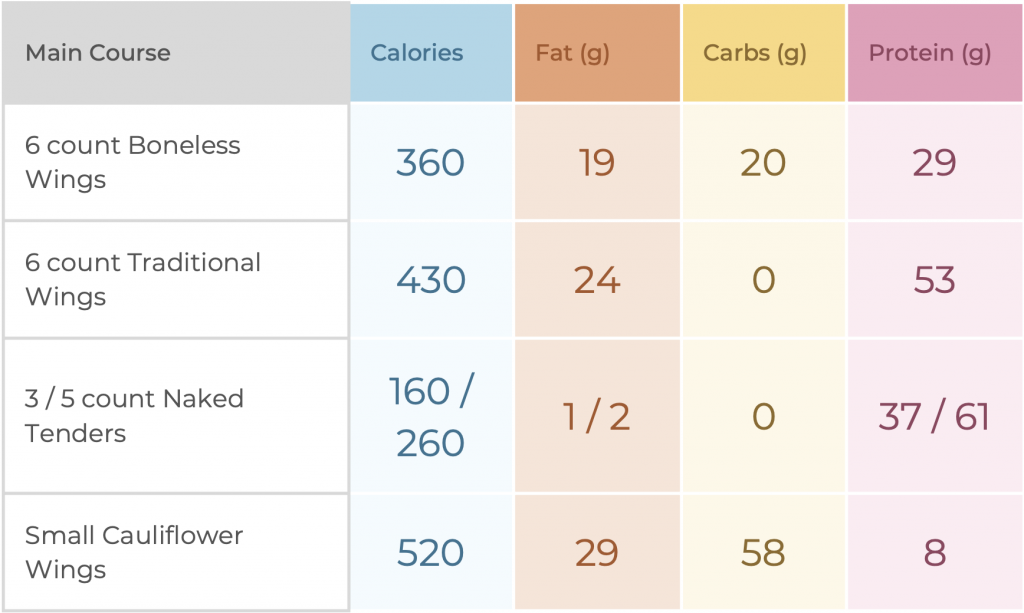 SAUCES
And then we have the sauces! Remember, these will run you extra calories on top of what is listed for the wings. These are some of the lower calorie/fat options available.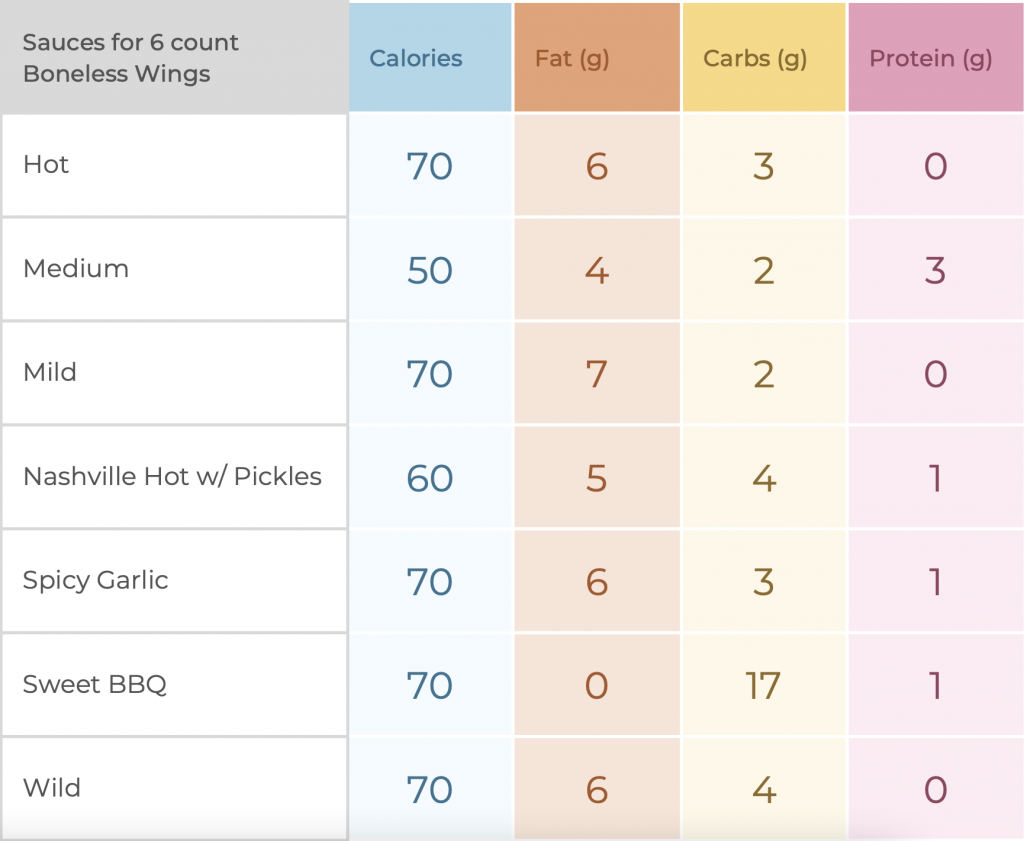 SIDES
Did you know you can get celery, carrots or both as a side?! They also have a garden salad option. You'll want to avoid the fried sides like fries, tots and wedges to keep your BITES lower.