Healthi
Restaurant Guide to
Burger King
Download PDF Version

OVERVIEW
The Original Home of the Whopper is the second largest fast food hamburger chain in the world, and for good reason. Who doesn't love that flame-broiled flavor?

THIS PLACE IS KNOWN FOR


3 QUICK TIPS FOR EATING HEALTHI AT BURGER KING

Stick with the smaller burgers and avoid doubles
Avoid dipping sauces since they add extra calories, fat and sugar
You can save about 42 calories and 3.5g fat by leaving of the cheese
FRIENDLY MENU ITEM'S AT BURGER KING
BREAKFAST
We know that fast food breakfast isn't always Healthi friendly, but there are a couple options here that can satisfy that morning hunger. Choosing bacon or ham over sausage will keep things lighter. The croissants are also a better option over the heavier biscuits or sourdough bread. Or maybe you're looking for something small and tasty, like a small side of breakfast Hash Browns!

MAIN COURSE
Again, we know fast food doesn't always have the lightest options. But this list can help you make the lightest choices possible when choosing fast food. If you're in the mood for a flame broiled burger, try the regular Hamburger for 259 calories or cheeseburger for 302 calories. The Whopper Jr. allows you all the great BK flavors without spending as many Heathi bites.
If it's chicken you're after, you've got a selection here too! It's best to avoid all the fried chicken sandwiches, but the 9 piece Chicken Fries or the 4 or 8 piece Nuggets will help you stay in your budget.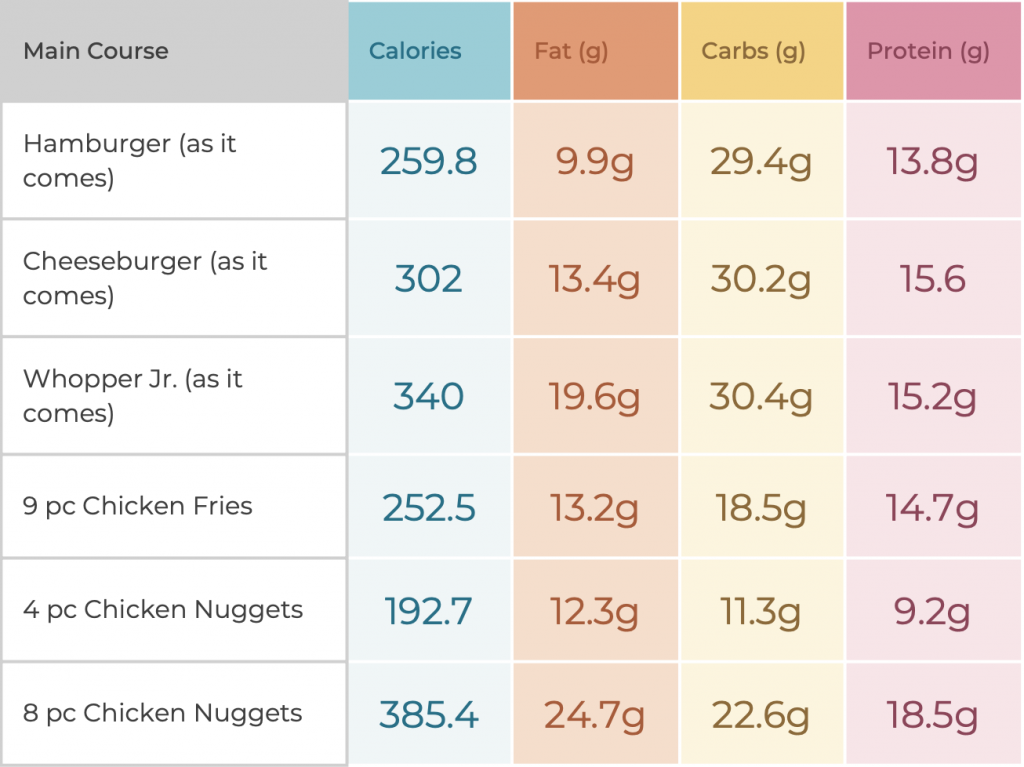 SIDES
our side choices here are going to be based on how much out of your daily budget you'd like to spend. They offer a cup of Motts Applesauce for only 50 calories. A small Onion Ring comes in with less calories than the fries as well.