Healthi
Restaurant Guide to
Carrabba's Italian Grill

OVERVIEW
Carrabba's is build on the foundation of family. Many of their recipes are even from the family who created the company. You can't get much better than family recipes! With a wonderful atmosphere and authentic, delicious food, you'll definitely leave here feeling satisfied.

THIS PLACE IS KNOWN FOR


3 QUICK TIPS FOR EATING HEALTHI AT CARRABBA'S ITALIAN GRILL
Try to stay away from pasta dishes and choose lean proteins
Pair a side salad with a veggie side to go along with your main dish
If your portions are large, ask for a box to take the rest home
FRIENDLY MENU ITEM'S AT CARRABBA'S ITALIAN GRILL
Let's start off with their delicious soups and entree salads. The Johnny Rocco Salad with shrimp and scallops (or one or the other) is a delicious start. Mama Mandola's Sicilian Chicken soup is a wonderful soup option, as well as the Sausage & Lentil soup, Minestrone soup, and the Tomato Basil soup.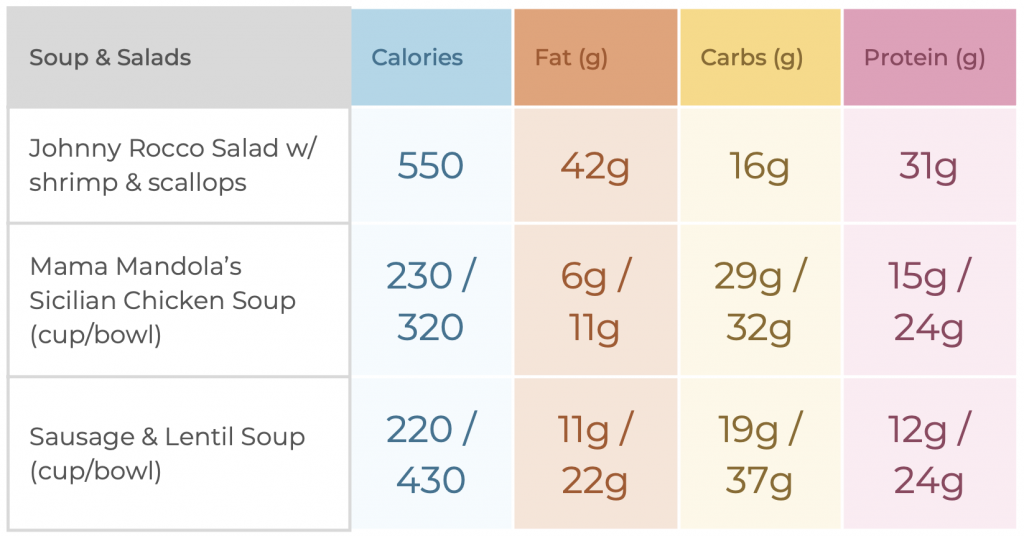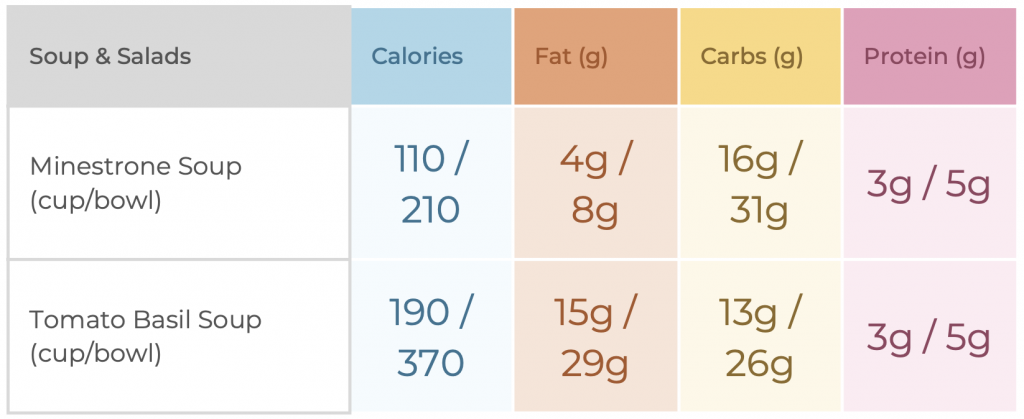 We know that Carrabba's has everything Italian. But here, it may be best to steer clear of the heavy pasta dishes and opt for something lighter.
Their Specialties section has multiple great options that will fit into your budget. The Chicken Bryan is wood grilled chicken topped with goat cheese, sun dried tomatoes, basil and lemon butter sauce, delicious! The classic Chicken Marsala is another wonderful choice. It's their wood grilled chicken topped with mushrooms and Lombardo Masala wine sauce. Another classic is the Tuscan-Grilled chicken which is seasoned with Mr.C's Grill Baste, olive oil and herbs. Last is the Chicken or Veal Piccata. Thin and tender cutlets sautéed and topped with lemon butter sauce, parsley and capers.
Next, let's move on to steaks and chops. The Tuscan-Grilled 7oz Sirloin is a wonderful protein option. Or, you could try out the Tuscan-Grilled Grilled Pork Chop. These both pair wonderfully with some broccoli or asparagus and a side salad!
Let's talk about seafood. This can be a great, light, but filling option since it maximizes on protein! The Spiedino Di Mare is a wonderful dish that includes shrimp or sea scallops (or both) with Italian breadcrumbs, and lemon butter sauce. The Mahi Wulfe is lightly breaded, wood grilled and topped with artichokes, sun-dried tomatoes, and basil lemon butter sauce. Talk about all the flavor! For the Salmon lovers, try out the Simply Grilled Salmon.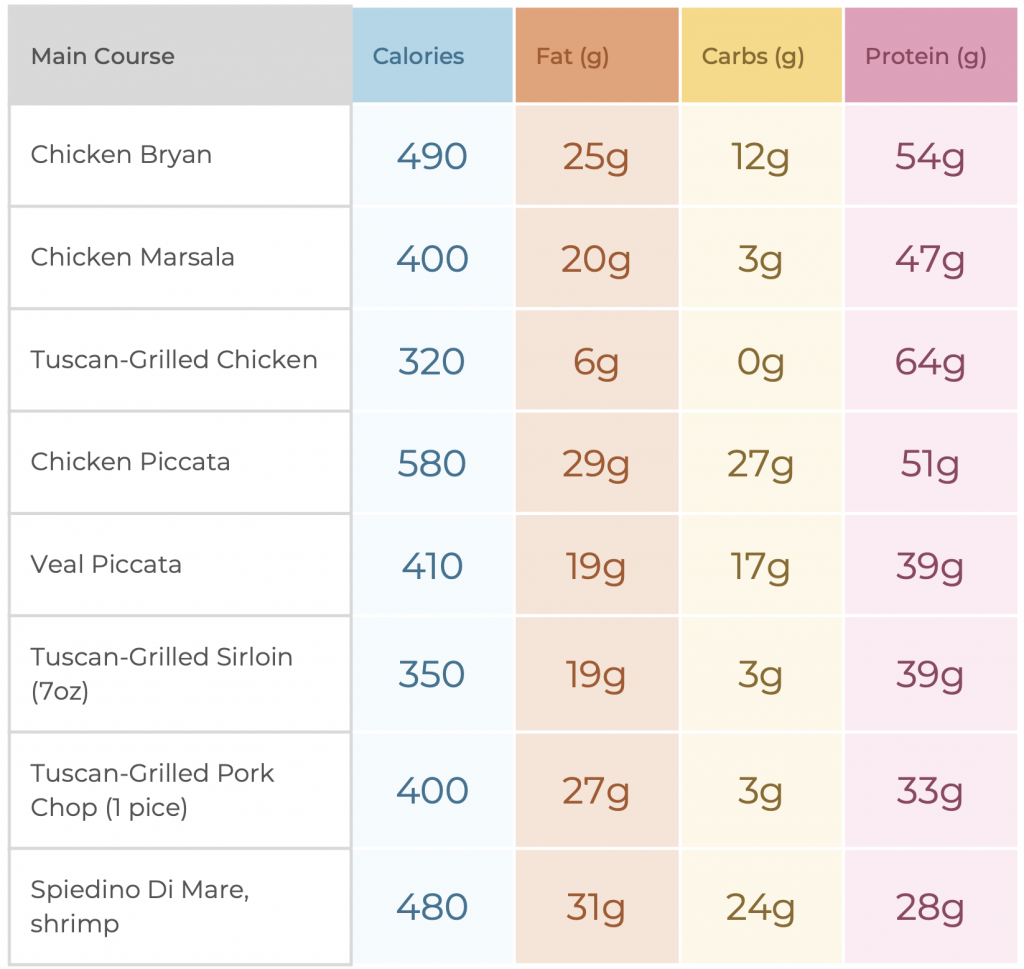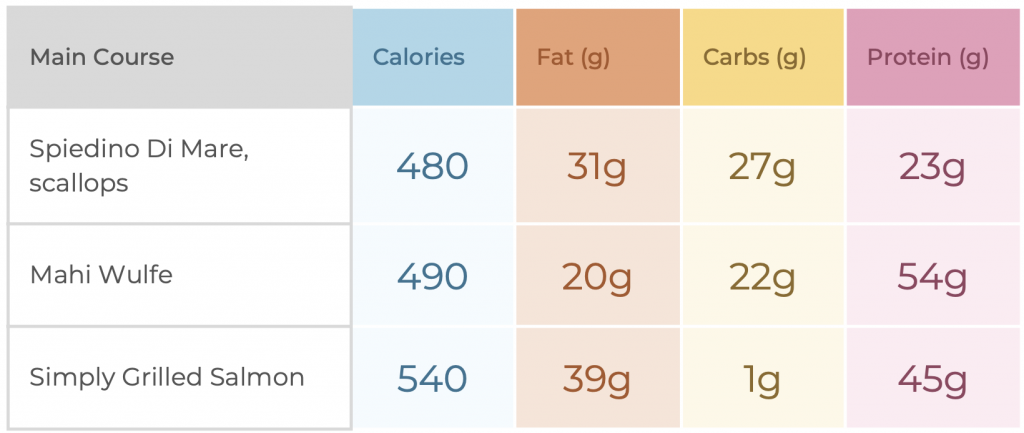 SIDES
These sides pair wonderfully with the steak, chicken, or seafood entrees.