Healthi
Restaurant Guide to
Dairy Queen
Download PDF Version

OVERVIEW
Dairy Queen may be a top pick as "The World's Favorite Quick Service Restaurant." We know, all that ice cream may have us screaming "I don't need ice cream!" But we're here to help you pick your best Healthi meal while out to eat!

THIS PLACE IS KNOWN FOR


3 QUICK TIPS FOR EATING HEALTHI AT DAIRY QUEEN
Stick with simple burgers or rotisserie chicken
Get a side salad and fat free Italian
Don't be afraid to treat yourself to an ice cream from time to time!
FRIENDLY MENU ITEM'S AT DAIRY QUEEN
Dairy Queen certainly is known for their ice cream, but they have much more to offer! It is possible to eat fast food and stay on track.
Their delicious burgers are a great example. Stick to the simple, single burgers to keep the calories and fat lower. The Original Hamburger comes with pickles, ketchup and mustard on a warm bun. The Original Cheeseburger is the same, with added cheese of course.
If you're looking for a much lighter, yet still delicious, meal- you're in luck. The Rotisserie-style Chicken Bites Salad bowl is the perfect solution. The salad starts with a bowl of romaine and iceberg lettuce topped with the rotisserie chicken, diced tomatoes, bacon, and shredded cheddar cheese.
You can also order just the Rotisserie-style Chicken Bites! These are a great way to get some protein while staying within your "BITES budget."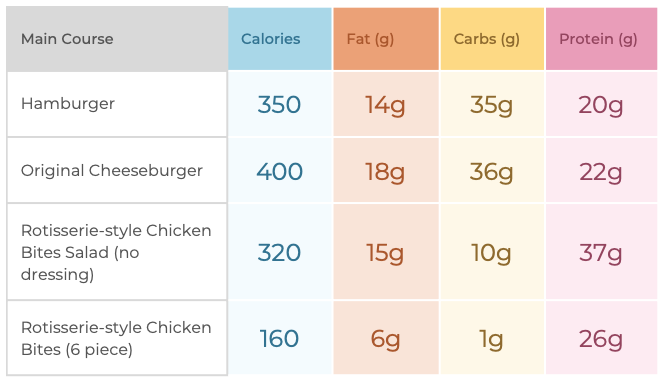 SIDES
The sides are a bit limited, but you can choose depending on how you'd like to spend your BITES or calories.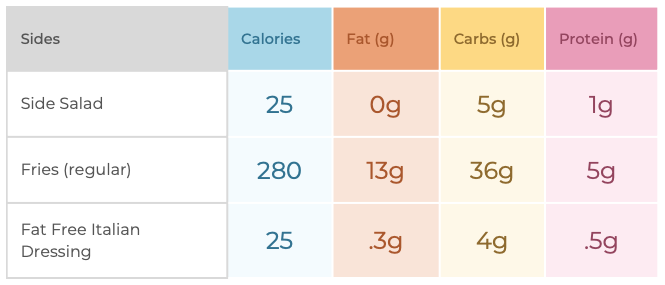 TREATS
And because we all deserve a treat sometimes.. 🙂