Healthi
Restaurant Guide to
IHOP
Download PDF Version

OVERVIEW
The International House Of Pancakes is most definitely an iconic breakfast spot. With not only all things breakfast, their lunch and dinner menu has great food, too. They're sure to "Put a Smile On Your Plate" while staying Healthi.

THIS PLACE IS KNOWN FOR


3 QUICK TIPS FOR EATING HEALTHI AT IHOP
Avoid big, overloaded omelettes
Choose egg whites to keep it lighter
Ask for no whipped butter
FRIENDLY MENU ITEM'S AT
IHOP
IHOP is best known for their delicious breakfast. You'll have to be careful with many of the breakfast menu items like large omelettes, French Toast and Belgian Waffles, but there are definitely many Healthi friendly options.
If you're in the mood for pancakes and want to splurge a little, an order of 3 Original Buttermilk Pancakes come in at 450 calories. But, you can ask for no whipped butter which will save you 70 calories! You can also choose to build your own combo with the Original Buttermilk Pancakes, no whipped butter, scrambled egg whites and turkey bacon. YUM!
The 2x2x2 is another great, customizable option. You can get pancakes, scrambled egg whites and turkey sausage for a great and filling meal. The Classic Avocado Toast is another tasty pick. Don't let the fat content in avocado deter you from having it once in a while, they have great health benefits! With avocado on multigrain bread and tomato, you'll love it! Add a side of fresh fruit to round out your meal.
The Quick Two Egg Breakfast is another great option. With your choice of egg, meat and bread, you'll be able to customize just how you like. Try it with fried eggs, turkey bacon and multigrain bread for 340 calories. Or if you're a sourdough fan, try that with scrambled eggs and ham for 390 calories.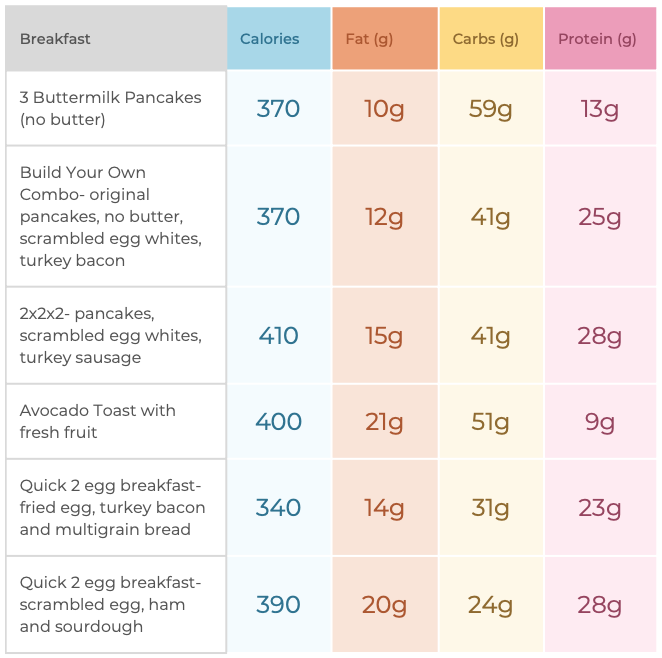 LUNCH / DINNER
If you're looking for something other than breakfast, you're in luck! IHOP has other great lunch and dinner options as well. The Chicken & Veggie salad is a delicious mix of lettuce, avocado, mushrooms, red onion, tomato, and you can choose the grilled chicken to top it. There aren't many low calorie dressing options here, but you can bring your own to keep the Bites lower. The Grilled Tilapia Entree is another great pick that's low in calories and great on protein. The 10oz T-Bone Steak is a great option as well. Served with broccoli and mashed potatoes, you'll surely be full!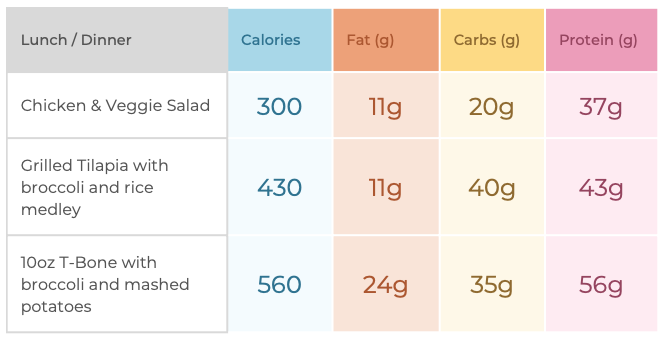 SIDES
There are lots of side choices here. They can be part of any meal or combo, or you could even build your own meal straight from the sides menu!