Healthi
Restaurant Guide to
Outback Steakhouse

OVERVIEW
Get ready to be excited, because Outback Steakhouse might be utopia for anyone on a weight loss journey! Matter of fact, it's one of the best places to eat if you are wanting to maximize proteins and minimize carbs and sugar. Their menu is rich in steak, burgers, fish and even king crab and lobster tail. YUM!. You'll be singing Outback praises all night long.

THIS PLACE IS KNOWN FOR


3 QUICK TIPS FOR EATING HEALTHI AT OUTBACK STEAKHOUSE
Go for anything grilled, since Outback doesn't add butter or oil to it.
Choose light dressings like their light balsamic vinaigrette.
Choose veggie sides
FRIENDLY MENU ITEM'S AT OUTBACK STEAKHOUSE
Stick with their salads, always ask for dressing on the side and stay away from creamy dressings. Oil and Vinegar are always great options. The Balsamic Vinaigrette is a go-to for many. For those looking to manage carbs, you can order the salads without croutons. A very popular and low-calorie option is their Seared Peppered Ahi at 460 calories.
Soups are another great addition to any meal, especially the cup size. Their cup of baked potato soup is a fan favorite. The Creamy Onion as well as Cream of Broccoli are other delicious choices.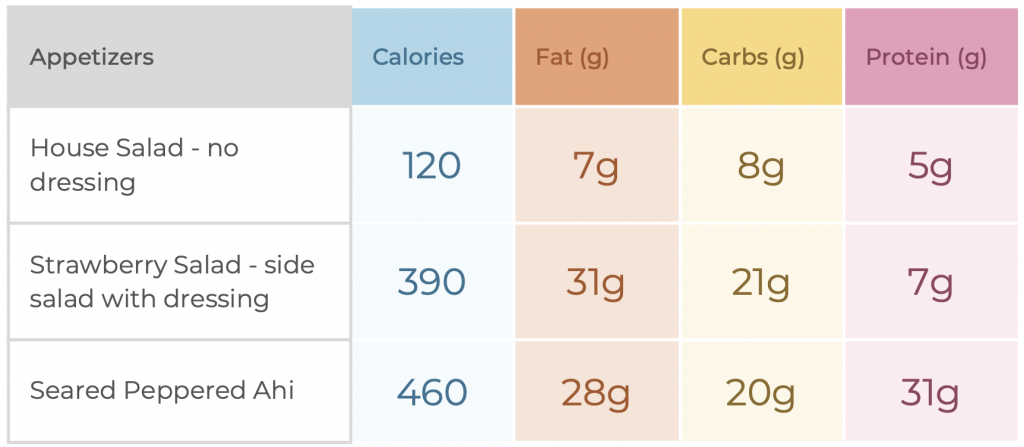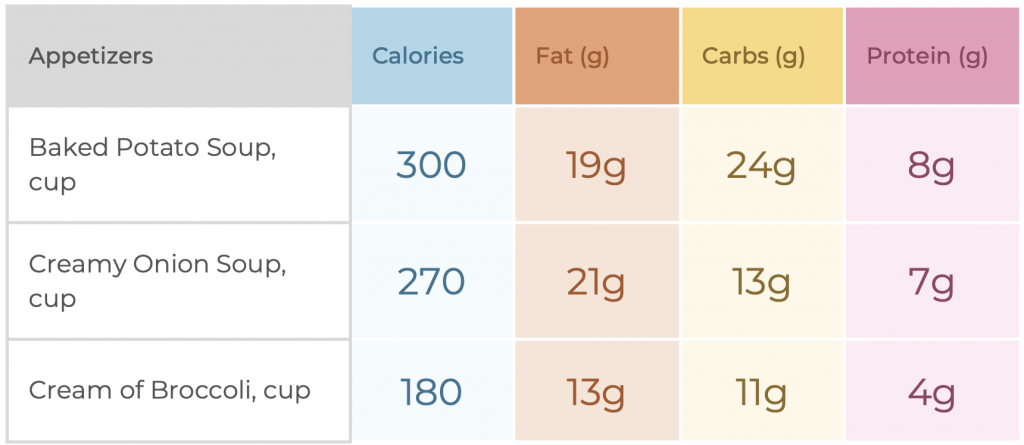 MAIN COURSE
Outback Steakhouse is famous for their steaks, and in fact all of their protein options are fantastic. You'll want to avoid anything that's fried or breaded. If you're watching carbs, you'll want to stay away from sides like mashed potatoes and fries. You can easily substitute these for a salad or their steamed broccoli.
Outback Steakhouse is also very generous with their portions, so you may want to consider splitting larger portions in half (ask for a to-go box!) to avoid higher calories counts.
The Pork Porterhouse, Grilled Salmon and Grilled Chicken are all great choices with lots of protein. Try pairing them with seasonal veggies for a well balanced meal!
Salads are also a very good option at Outback Steakhouse. They are large, filling, tasty and can be quite healthi. Adding Ahi Tuna, Salmon or Grilled Chicken are healthy ways to expand the salad. You can add shrimp for a whopping 2 extra carbs! Try it out with the Aussie Cobb Salad!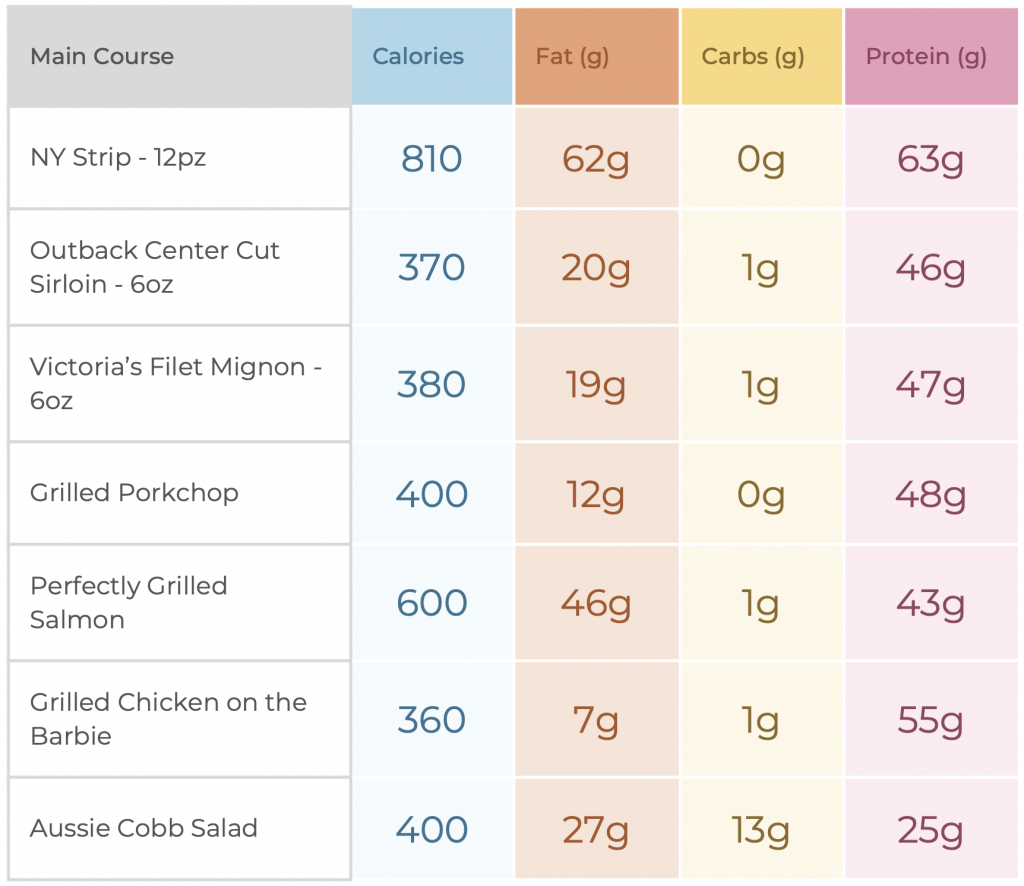 SIDES
There are a number of good sides at the Outback Steakhouse given their great selection of veggies. If you want to treat yourself, put through an order for the Five Grilled Shrimp 🙂