Healthi
Restaurant Guide to
Red Lobster

OVERVIEW
If you are a seafood lover, look no further! Red Lobster is home of American Sea Food. With a wide variety of options, any seafood lover is sure to find a Healthi meal here. Their menu is rich in crab, lobster, shrimp and fish, so you'll get to maximize your protein.

THIS PLACE IS KNOWN FOR


3 QUICK TIPS FOR EATING HEALTHI AT RED LOBSTER
Avoid fried/battered seafood
Maximize on protein to get full-like surf & turf
Choose lighter sides broccoli or salad to get those veggies in
FRIENDLY MENU ITEM'S AT RED LOBSTER
You'll want to stay away from the fried items here. But the Seafood- Stuffed Mushrooms (390 calories) or the Jumbo Shrimp Cocktail (130 calories) could make great appetizers, or even part of your main entree if you add a side!

MAIN COURSE
Of course, Red Lobster is famous for their seafood. With so much protein, you're sure to have a great meal that keeps you full. Just try to avoid most of the fried/breaded options as well as the pastas to keep your BITES low.
Let's start with soups! You could stick with the Cup options instead of the Bowl to save calories, fat and carbs. The Lobster Bisque cup of soup is a delicious option at only 310 calories and the New England Clam Chowder cup is only 240 calories!
Next up, salads. The Classic Caesar Salad comes in at 520 calories and would be delicious paired with the cup of Clam Chowder or the Jumbo Shrimp Cocktail! The Caesar Salad with Shrimp is a wonderful option for 660 calories.
Let's look at their Indulgent Classics. These are usually paired with two sides, but you can opt for one to keep it lighter if you'd like. The Garlic Shrimp Skewers would pair beautifully with coleslaw and orzo rice. The steamed Live Maine Lobster would be great with a side house salad and broccoli. Maybe you're in the mood for steak! The 6oz Filet Mignon or 7oz sirloin would be delicious paired with a side salad and a plain baked potato. Surf and turf is the best of both worlds. You could order the Walt's Favorite Shrimp & 7oz sirloin with seasoned broccoli as a side. The Wild-Caught Snow Crab Legs are a delicious choice paired with coleslaw and mashed potatoes.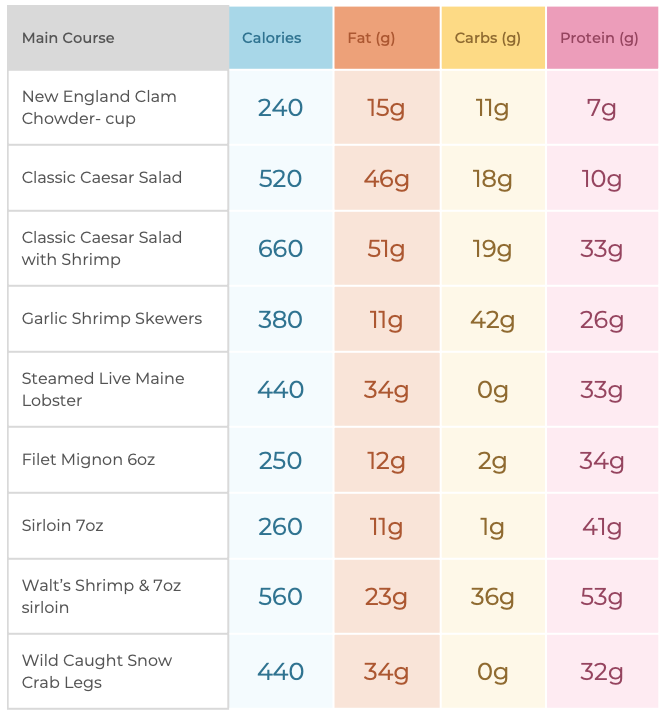 SIDES
There are many side options, but here are some of the lighter ones. Keep in mind the Classics menu comes with two sides, but you may only want one if you want to keep it lighter.