Healthi
Restaurant Guide to
Shake Shack

OVERVIEW
Shake Shack prides themselves with their custom 100% angus beef. They source premium ingredients as well, giving you the best food possible. Here, you'll be able to completely customize your sandwich to fit your taste buds and your BITES budget.

THIS PLACE IS KNOWN FOR


3 QUICK TIPS FOR EATING HEALTHI AT SHAKE SHACK
Stick with single burgers
Choose a lettuce wrap to cut down calories and carbs
If choosing a frozen treat, stick with single cups
FRIENDLY MENU ITEM'S AT SHAKE SHACK
At Shake Shack, you'll be able to maximize on your protein.
If you're looking to "spend" a little more in BITES or calories, then the Shackburger is for you. With angus beef, lettuce, tomato, and ShackSauce, you'll get all the delicious flavor Shake Shack has to offer. The classic Single Hamburger or Cheeseburger is just that- their plain angus beef on a potato bun. Try loading it with all the veggies to get those healthy checks in.
The Veggie Shack is a great choice, and it's even Vegan! A veggie patty topped with sliced avocado, vegan aioli, tomato, pickles, lettuce, all on a toasted bun. You can even opt for a lettuce wrap in place of a bun!
If you're in the mood for chicken, the Chicken Bites are a delicious deal. They're crispy and white-meat BITES.
Last but certainly not least is the famous flat-top dogs. The classic Hot Dog is 100% beef.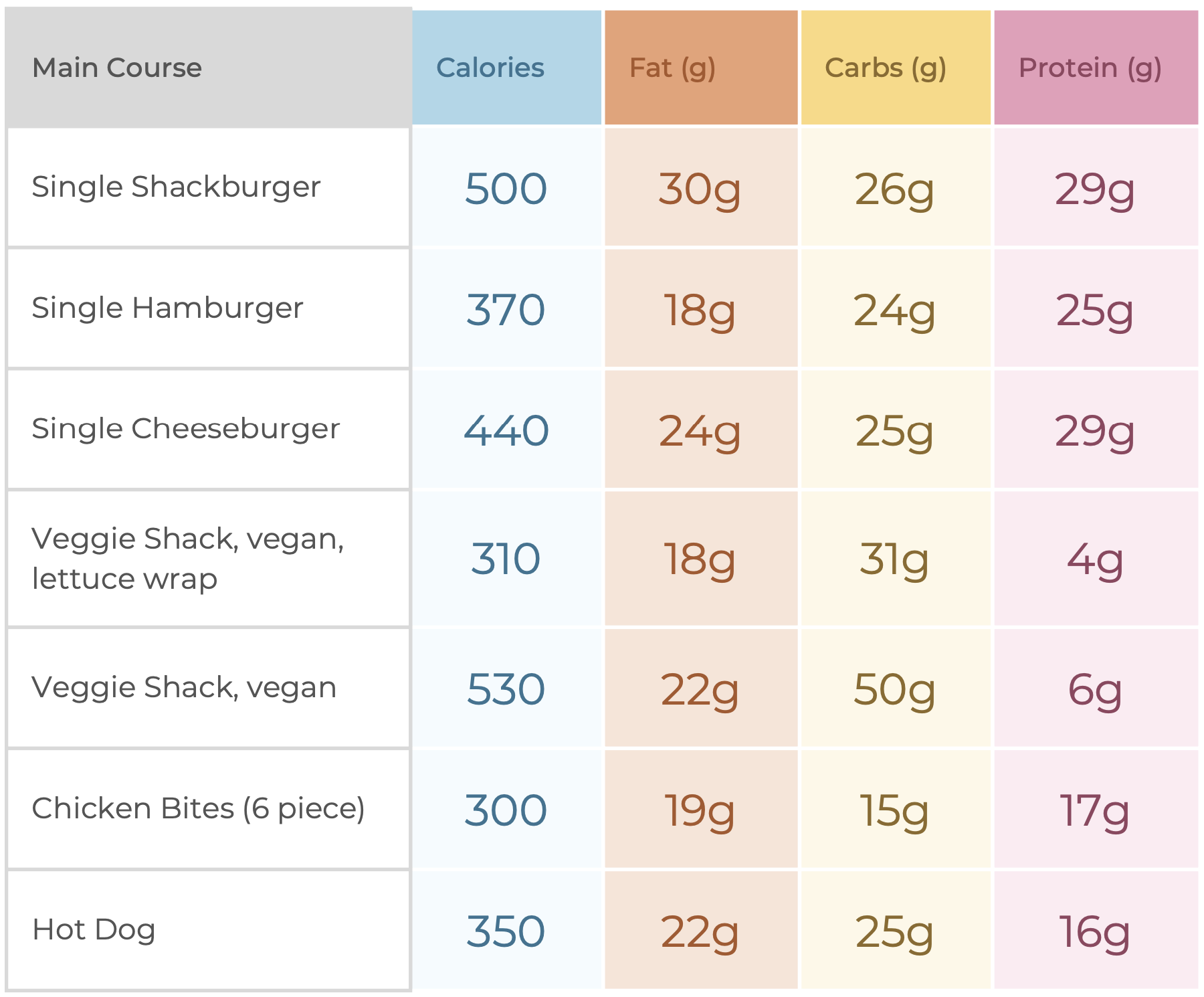 SIDES & TREATS
The only side offered that is relatively lower in BITES or calories are the regular size fries. Of course, they're famously known for their frozen treats as well, so go ahead and treat yourself if you'd like—you deserve it!